Day 1: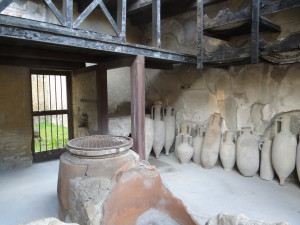 We had our first of two field trips February 3rd through 7th which was to the southern part of Italy.  Our first stop was a huge palace and garden called Palazzo Reale.  We ended up getting an impromptu tour of the gardens where they showed us this coniferous plant that is originally from Nigeria, and only grows there, at that palace, and in Berlin and they still are unsure as to why it what makes it able to grow only in those places.  We first stopped in Herculaneum which is the lesser known archaeological sight similar to Pompeii. It was much smaller than Pompeii, but did not have the plaster casts of the full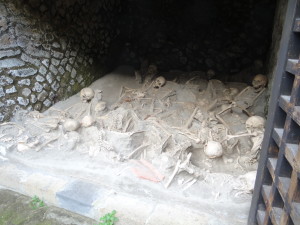 bodies trying to escape the eruption.  It did still have plaster casts of the bones of people who tried to take refuge along what was the coast, but now is about 1500 feet from the actual shore.  Another interesting thing that they had at Herculaneum that isn't at Pompeii is the charred wooden remnants of building pieces. after leaving
Herculaneum, we drive south farther to stay overnight for our next destination, Paestum.
Day 2: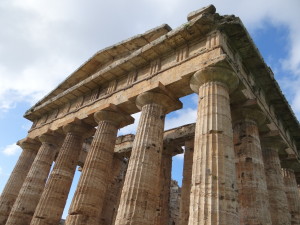 We started the day off by looking at the ancient Greek temple remains at Paestum about an hour south of Naples.  We spent about 3-4 hours there and were tasked with sketching the temple
s as part of our drawing class that we are taking.  It definitely makes you really study the temples more if you have to draw them and I think that actually made that stop more interesting because we were actually given time to really study the temples and remains of the city.
Around noon we headed out for Naples where we would spend the remainder of the school sponsored part of the trip.  First stop in Naples was the National Archaeological Museum of Naples which houses many of the artifacts recovered from Pompeii and Herculaneum, a large part of the artifacts from Palazzo Farnese in Rome, and also some artifacts from the Baths of Caracalla from Rome.
Day 3: 
The third day of the trip we were given a pretty extensive list of things to see and do in Naples and were free to explore.  We chose to do a tour of a tunnel and cisterns or wells that was created to connect the governmental palace to the mili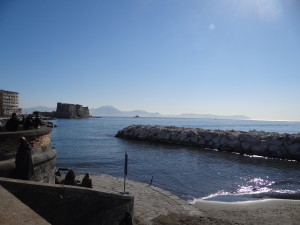 tary port that was built as a way to wisk the leader away in a time of crisis.  It was never actually used by that president, but was used during WWII as an air raid shelter where it could shelter thousands of people.  After that tour, we sat along the coast and relaxed for a bit, and finished the day off by visiting a few churches and eating at the only geothermal pizza restaurant in the world!
Day 4: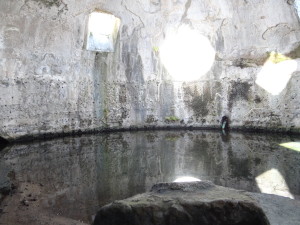 We left the hotel and headed for the town of Baiae just north of Naples.  There we toured the ruins of an ancient bath complex that had the Temple of Echo that was the largest dome in the world prior to the construction of the pantheon.  We weren't able to actually see the sunken part of the city since we had a big group. Our final stop was to an old WWII Military cistern that you could go down into.
After the school sponsored part of the trip we had Sunday and Monday to freely travel.  I was trying to get a group together to go to the island of Ischia because there was a bay on the Mediterranean where natural thermal spring water bubbled up at the shoreline which would make it possible to swim in the Mediterranean in February, but wasn't able to get enough people to go.
Instead I went with a different group to the island of Capri….
Day 5: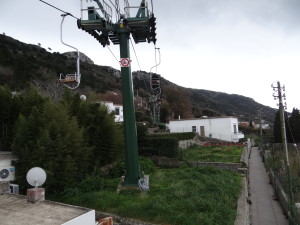 On Capri, we took a chairlift up to the top of the mountain which gave you a panoramic view for miles!  The island was very lush even in February, but it was pretty evident that it was not tourist season since a lot of the things to do on the island were closed.  I decided to head back to Rome on Sunday night since it had been a long five days and needed a day to relax before classes started back up on Tuesday!