Over most of the weekends in February, I didn't really travel too far.  We had a couple busy weeks of school stuff so it seemed better to just stay in or around Rome to stay on top of everything.  Some of the weekends were also not very good weather w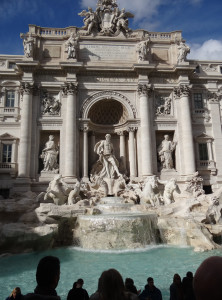 ise so it was even more of a reason to stay in and apply for jobs and do homework.
Friday February 19th
After class ended on Friday morning, Mitch and I walked around Rome to see some sights that we hadn't seen before.  We ended up wandering past Trevi Fountain and decided to really stop and take it all in for once (we usually avoid it because of how crowded it is or we happen to be walking past).  It is one of the few monuments that no matter what time of day it is, it is always super packed.
Our next stop was to the Capuchin Crypt after a recommendation from my aunt.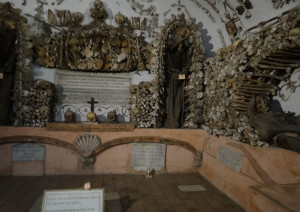 Essentially it is a hallway that contains six chapels that are decorated with the human skeletal remains of nearly 4,000 Capuchin friars.  Although quite morbid, it was actually really interesting to see human remains actually be organized and displayed in a way that is quite beautiful in a way. Each chapel had a different theme and would use the repetition of certain bones as a driving design piece of the chapel which was pretty cool.   Photos were not allowed so I was only able to sneak in a few and the quality isn't super great, but there are some good ones online.
Our final stop that afternoon was at the Basilica of Sta. Maria Maggiore, one of the four Papal Basilicas in Rome.  It was the first church where you could go down into the sanctuary in front of the altar.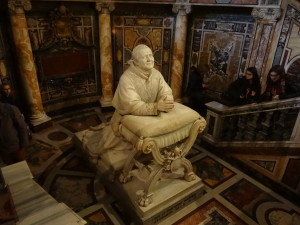 More to come very soon!